Street markets– When the good weather arrives, the city is suddenly activated and an endless number of outdoor activities and events are organized and, precisely, one of the most popular and famous are the Flea Markets in New York.
It is not that in winter you cannot find second-hand markets or street markets (some are organized throughout the year and others have special winter editions covered places), but it is true that in summer they have a different atmosphere and It's nice to remove old junk and second-hand clothes and enjoy the good weather.
But in the Flea Market and the street markets there are not only old things, you will also find some young designers with retro airs and, of course, a wide gastronomic offer. In fact there are flea markets that are more famous for their food trucks than for the market itself!
Shopping & Eat street markets: Flea Markets in New York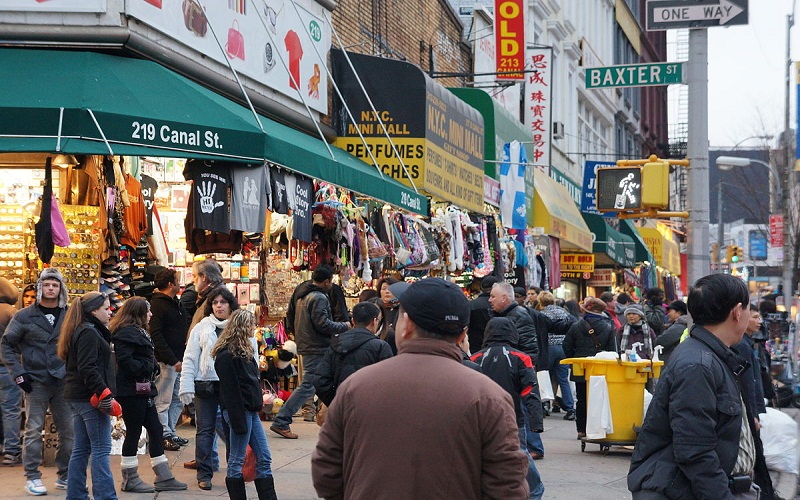 These street markets are usually organized on weekends and are an unmissable event for many new corkers who will spend the day. So, if you want to live a very real New York, I recommend you go through one of these famous Flea Markets in New York.
From April to October, every Saturday from 10 am to 6pm, one of the most famous Flea Markets in New York is celebrated: the Brooklyn Flea in Williamsburg. The best are its views of Manhattan and the atmosphere that there is. Smorgasburg in Williamsburg is more known than its more than 150 vendors with all kinds of vintage objects with more than 100 food stalls … everything you can imagine and more!
For a few years it has been held at Fort Greene but has now returned to its original location at East River State Park in Brooklyn (90 Kent Ave, Brooklyn).
Brooklyn Flea DUMBO
On Sundays from April to October you will find under the Manhattan Bridge the Brooklyn Flea in DUMBO , much smaller than the previous one but with a lot of charm and charm. You'll find curios and second-hand clothes and some young artists. The exact address is: Anchorage Place at Pearl Street.
Smorgasburg Prospect Park
If you have been wanting to eat in Smorgasburg on Saturday or just want to repeat, on Sundays from 11am to 6pm you can go to Smorgasburg in Prospect Park. An ideal plan for a sunny Sunday:  walk through Prospect Park, food and relax.
Bushwick Flea
A new flea market that is much less frequented by tourists is the Bushwick Flea Market, at 16 Harrison Pl, Brooklyn. You will find it every weekend from 10am to 6pm.
Artists and Fleas Williamsburg
In  Artists and Fleas in Williamsburg  have a place a lot of artists and you can find real gems is open all year on weekends (Saturday and Sunday) from 10am to 7pm . Artists and Fleas in Brooklyn is at 70 North 7th Street. There are several Artists and Fleas scattered around NYC, then we'll see a couple more.
Flea Markets in Queens:
We often focus on Manhattan and Brooklyn, but do not forget that Queens is the most multicultural borough in the city, what these Flea Markets will be like in New York:
LIC Flea & Food
Every Saturday and Sunday from 11am to 6pm, the LIC Flea & Food Market competes with the Williamsburg in Brooklyn not only in fame but in views. A lot of stalls where you can find second-hand goods and entrepreneurial designers and where you can try a bite from anywhere in the world. This retro flea market is located at 5-25 45th Ave in Queens, just behind Gantry Plaza State Park.
Queens International Night Market
Crafts and curios, wide gastronomic offer and live music is what the Queens International Night Market offers every spring-summer Saturday from the end of April to October from 6pm to midnight. This night market is in the Flushing Meadow Corona Park.
Flea Markets in Manhattan:
And for the end I left the Flea Markets in New York that we usually have more at hand to be located in Manhattan, here you have a lot of other options:
Hell's Kitchen Flea Market
Located in the "Hell's Kitchen ", the Hell's Kitchen market is another of the most famous and popular Flea Markets in New York they say that many celebrities come to this place in search of treasures. If you find any, tell us!. Open every weekend from 9am to 5pm it is very close to Porth Authority, specifically at West 39th Street at 9th Avenue. The district of Hell's Kitchen is, today, a vibrant neighborhood that you should not miss. I tell you everything there is to know about the Hell's Kitchen neighborhood in this post.
Chelsea Flea Market
The Chelsea Flea Market is a retro market located on West 25th Street, between Broadway and Sixth Avenue (very close to the Flatiron Building.  To enter this market you have to pay an entrance, it is something symbolic, $ 1 per person. Inside you will find basically antiques: furniture, jewelery and jewelery, vintage photos and paintings. It is open on Saturdays and Sundays throughout the year from 6am to 6pm.
Artist and Fleas in Manhattan
We have already talked about the Artist and Fleas of Williamsburg and now it is the turn of the Artist and Fleas of Chelsea Market, a place full of young designers, entrepreneur and visionary fashion and accessories that you will love. It is open every day of the week and is located within the famous Chelsea Market.
And not only that, but also in Manhattan you can find at 568 Broadway Ave the Artist and Fleas SoHo, ideal to complete your tour of the famous SoHo neighborhood.
Grand Bazaar NYC
Every Sunday of the year there is a busy market in the Upper West Side, the Grand Bazaar NYC, where you can buy second-hand items and eat at one of its street stalls. Also buying in this Flea Market in New York you will be helping your community since 100% of the benefit goes to 4 local public schools. The exact address is 100 West 77th Street.