Are you thinking of redecorating your bedroom? Or just wanting to keep up with current decorating trends? Then here are some up-to-date bedroom ideas from designers that are sure to inspire you.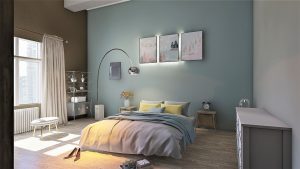 Ecological
This style is currently enjoying popularity as it explores the use of ecologically produced natural materials, and it looks as if it will be here to stay. It is simple to reproduce with sealed brick walls, reclaimed wood panelling, upcyled wooden furniture and natural fabrics. A cosy woollen throw or flokati can be draped over the bed, and engineered wood flooring can be used on the floor.
Modern Rustic
This style is similar to the ecological theme, as it uses natural materials such as wood panelling, stone-flags or terracotta tiles. Natural fabrics are also used for bedding, rugs and windows. This theme is easy to personalise too. For that American pioneer look, spread a patchwork quilt or cushions over the bed. For an exotic style, use a kilim rug on the floor and scatter bright kilim cushions on the bed. The French country look works well with this theme too, with its wood panelled shutters, linen sheets and wooden floors such as those available at https://www.irwintiles.ie/wooden-flooring/engineered-wood-flooring.html.
Historical
This trend retains its popularity and appeals to those who adore those Victorian or Edwardian period television dramas. The main focus is the bed, which is ideally a majestic four-poster, but an ornate polished-wood headboard would work just as well. For bedding search out strong jewel colours, sheets and pillowcases trimmed with silk and lace. Look for heavy velvet curtains secured with tie-backs. And if space allows, add a polished-wood dressing-table with an ornately framed mirror and a large leafy house plant.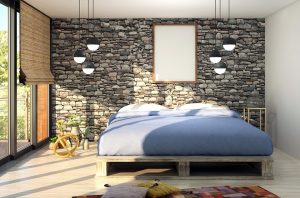 Colourful
This bedroom trend is in opposition to the previously popular minimalist style. It retains the fitted cupboards, window blinds, plain walls and floors. The difference is that it incorporates a dramatic contrasting colour scheme. Bright pink, sage green or even black can be used to complement white, with accessories and lampshades of the same contrasting colour to balance this look.
New ideas in bedroom décor can offer a fresh perspective to a room that is your own restful, restorative personal space. Some changes are relatively easy to achieve to update your bedroom. But whatever your style, maybe some of these current trends will provide you with some inspiration.