The need to spend time with the family is born from the desire to share enriching experiences with the people you love. These moments are the ideals to create bonds that endure over time and allow you to overcome adversity.
The family is a group of people linked by kinship or affinity who live in a certain place. There you learn about principles and values ​​to be properly integrated into society.
It is good to plan to enjoy in the company of the family whenever you have a free moment. Playing or conversing is simple activities that can be done in a short space of time, and will increase the confidence and harmony in the home.
The importance of spending time with the family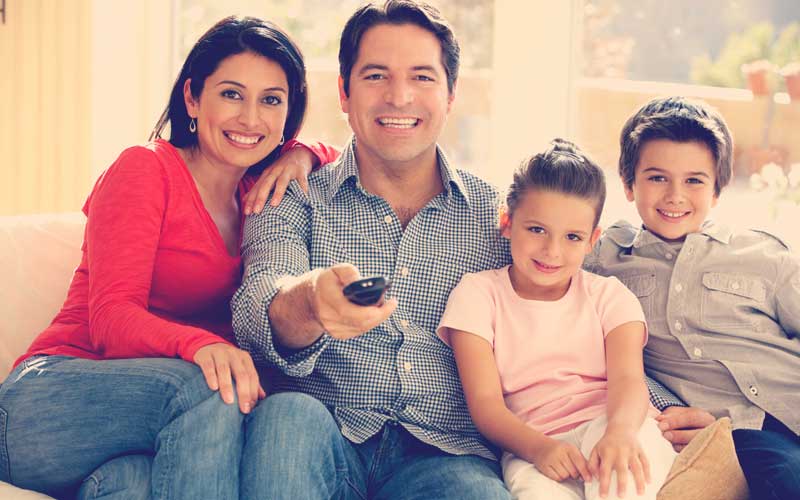 At present, certain customs have been lost such as enjoying with the family, especially because of our accelerated pace of life. That is why it is important to rescue the value of spending more time with your loved ones.
Some suggested activities to share include watching movies, dining or having breakfast together on Sundays, among others. This time is important for the emotional and psychological development of each member of the family nucleus.
In addition, with each encounter you will see that happiness, peace and harmony grow in your home. All members will feel loved and important, which helps to reinforce a positive image.
Take advantage of these moments to listen and give advice when everyone shares their projects: this will motivate all members to plan another meeting.
Enjoy time with your children
Sharing family time is fundamental in the education of children. The occasions in which you enjoy the company of your children must be of quality, maintaining respect, tolerance and discipline. Showing signs of affection towards them will also strengthen the bonds of the home.
Also, they will discover the important place they occupy in the life of their parents. This reinforces the positive image of them, which increases their self-esteem.
Activities to share with the family
The obligations and demands of modern life have made the number of homes that do not have time to enjoy their best moments keep growing. Therefore, we mentioned some activities to share as a family, without affecting your routine and budget.
Prepare food together
The preparation of simple dishes, such as a cake or simply a juice, is ideal to share pleasant moments. Eating together what they prepared can become a wonderful experience.
Plan, at least once a week, to be united at the table. They can be breakfast on Sundays.
Perform household chores
Form a team with all household members to perform household chores. Assign the tasks according to the age of each of the members so they can execute them easily and quickly.
With this type of activities begins to encourage compliance with rules, discipline and love at home.
Home chores can be fun if you manage them properly.
Recognize with praise the work of each member, especially the smallest. Show them the satisfaction of checking the results obtained.
Support in educational activities
Currently, there is the possibility of hiring people to support targeted classes and guide children to perform school tasks. However, it is suggested that parents support them with their duties.
When children are guided in this way they feel more motivated when it comes to fulfilling academic obligations.
In cases where adults continue to study or participate in a course, it is convenient to establish a schedule where they meet to do the assignments together.
Final reflection
To meet the needs of understanding and love in the home, it is essential to share family time. This is fundamental for the education of the children, since the behavior of the parents is the model.
We must take into account that the best way to get to know each one of the members of the family, in all its aspects, is to share time together.
Finally, do not let obligations and modern life separate you from your family. It is important to remember that when the couple decides to form a home, you should keep in mind that sharing family time will help them strengthen the union and establish solid foundations where their children will grow.
Tips to improve communication in the family
Sometimes communication is absent in families and in both the short and long term negative consequences between people. Communicating is not just exchanging words between family members, it has more to do with what we say, how we say it, why, when and the real meaning of words. Non-verbal language also plays a key role, since this language along with the verbal must be fused.
Is there good communication in your family?
Do you have doubts about whether or not there is good communication in your home? Attentive, because if you meet the following points it is very likely that you enjoy good communication skills.
You spend time talking.
They share feelings of all kinds..
Family members show interest and respect for their feelings.
The words are coherent with the actions.
There is direct communication between the members.
Communication with children and adolescents
The children and adolescents should not be excluded from this process because if it becomes critical in family communication will always be problems.
Children learn to listen by example and this is essential not only to obtain information but also to process it and communicate with others.
Is family communication broken?
Do not be alarmed because it is more common than you imagine. Many parents think that the child obeys is enough to have good communication, and nothing is further from reality, since in this case there is no real communication of exchange of ideas and feelings on both sides.
Ways to communicate with the family
Empower and ensure every day for good communication in the family will make your child have the opportunity to become a happy person with self-confidence.
It is true that adults and children do not have the same form of communication but it is important that as parents they are ready to always listen to what the children want to say, whether it is a good time or not, to give priority to their feelings is essential for his good emotional development.
Positive communication
Is your family's communication positive? Look at some of the aspects that should be taken into account to improve communication in your family:
Shows interest in what others have to say.
Listen carefully to what they say.
Shows respect for the feelings of others and tries to know what feeling it is.
Do not make negative judgments or draw conclusions prematurely.
Avoid criticism.
Try to be empathetic and put yourself in the shoes of the other.